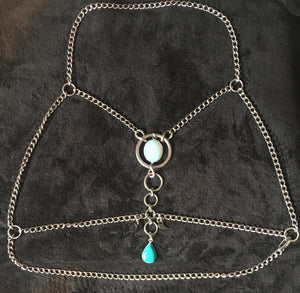 Using a base of our Alignment Harness, we wee asked if we could add some turquoise stones along with hematite moons. Definitely love it when people can see the possibilities of adding a little personalisation to our designs to make a very individual item.    
---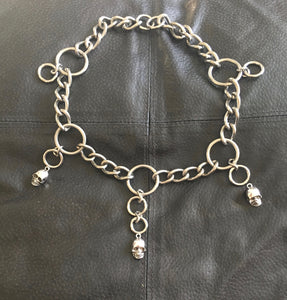 This design was an extension of our Coven Collar. Link Here. This design was for a wedding outfit for a very gothy bride who looked absolutely stunning. The real trick was ensuring that the skulls hung exactly as she wanted, without any twisting.
---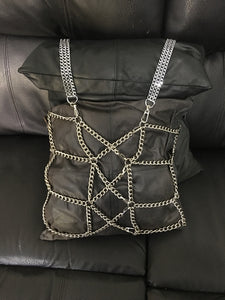 This design was made to look like corset lacing at the back with plenty of ring detail at the front. Using a similar method to the styling of the Hobble dress but shorter. Who knows, possibly, there may be more items to come using this lattice structure.
---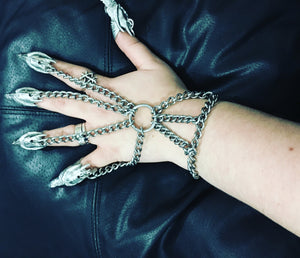 This is a design we have only been asked to look at once, a Chain glove. The finger ends had already been selected by the customer. It made for a bit of interesting design as we needed to allow the fingers to move (Since Chain doesn't stretch unlike normal glove materials) but without having too much slack in the design. It definitely looks quite awesome. 
---
For a Twisted Pix shoot, with Luna Mae, we created a harness designed to flatter her physic.