That Green Thing aka Gorexglory put together an awesome fashion video with a custom body chain harness we made for her. Its always great to see the artistic side come out to play. :-)
---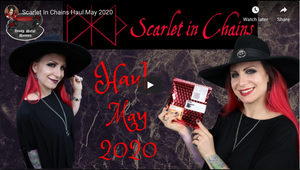 Heavy Metal Momma made a custom order from us (to go with my new Killstar May Brim hat) of a pendant necklace & matching stainless steel earrings, & we sent her a few extra items to show you guys! So if you like beautifully made, chunky stainless steel jewellery suitable for BDSM play (if that's what you're into), chains, harnesses, chokers, earrings & cuffs to make your goth & gothic outfits even more awesome or just cos it looks awesome, check out the beautiful items she received from Scarlet In Chains.
---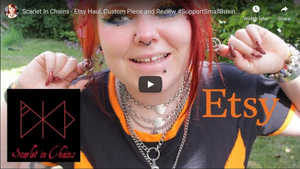 As part of her #SupportSmallBusinesses The Haunted Bat made a lovey video showing how you can order customised items.  
---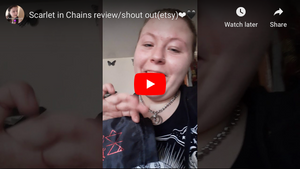 We had a lovely surprise from Leelee when she posted this video on youtube. It genuinely gave us such a smile as she reviews one of our new Total Eclipse collar.  
---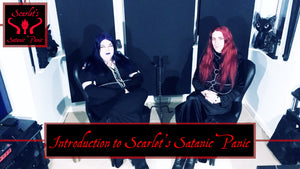 We thought we would introduce you to Scarlet's Satanic Panic. This is an introduction video giving an idea of where we are planning for this project. Part new items that are Which and Occult themed but also a series of videos looking into these subjects ranging from looking into paths, tools, symbolism etc. It should be a fun ride.