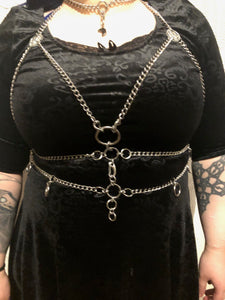 This design was to add extra options for wearing this. A Belt, a Harness or both together as a double layered Harness. We worked from the Alignment harness as our main base but added extra rings similar to our Synergy Harness. this allowed extra options.  We experimented with 2 variations, A large pentagram in the centre or a Large ring. We all ended up choosing a large ring for the final design.      
---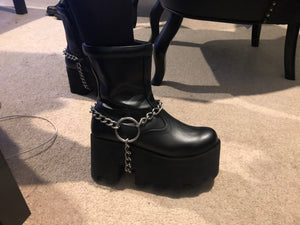 We were asked to replace a chain design on some boots that were really not up for the job So we replaced them with our Stainless Steel chain so now, the boots can be warn in rain, snow, mud etc. without worrying about the chain either breaking or deteriorating. :-)  
---
We were asked to create a bracelet to compliment our Summoner choker and this turned out very nicely. :-)  
---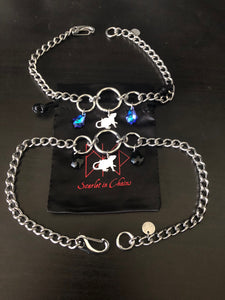 We managed to track down some Rat charms that were hand made to create these necklaces. Framed with Swarovski crystals.  
---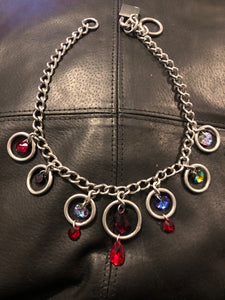 This collar was created to create as much sparkle as possible with 10 Swarovski crystals and it really did sparkle. :-)