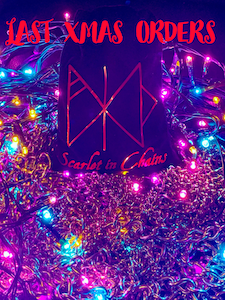 Last Orders for Xmas
Last orders for Australia, New Zealand and other countries in those regions is 29th November to give us time to make your orders.
Collections to keep an eye on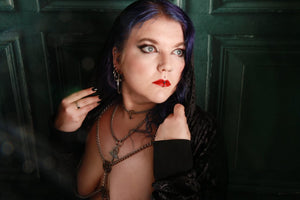 Introduction to Scarlet in Chains
Welcome to Scarlet in Chains
Making Metal Magick and Mischief since 2015


Handmade 304 and 316 grade Stainless Steel Jewellery and accessories so it is classified by the WHO as hypo-allergenic and suitable for 24/7 wear.
Female LGBTQIA+ owned
Makers of unique stainless steel chain jewellery & accessories for alternative lifestyles.
Female LGBTQIA+ owned.
Handmade in the UK.


Though we have standard designs available every item is customisable with chain, O rings and a beautiful selection of crystals that have been sourced specifically to provide a unique selection. So any piece of jewellery you have custom created with a crystal is highly unlikely to ever be repeated.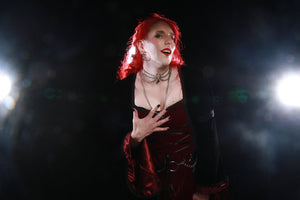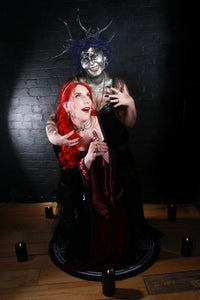 Est 2015
All items unless stated are handmade in the UK by Sophie and Drew who have backgrounds in engineering, silversmithing and design so you're in very capable hands. We have personally tested each design we create to ensure its not only up to the job but looks good whilst doing it. All items are not only available to have custom made for fit and appearance but we highly encourage it to get the full benefit of a Scarlet in Chains piece.


All our items are covered by our resize for life policy.

Resize for life does exactly what you'd expect, need an item made bigger or smaller visit one of our pop up shops or post it to us and for the cost of postage we will resize your item to meet your changing needs find out more please give us a shout.
Our Latest Custom Creations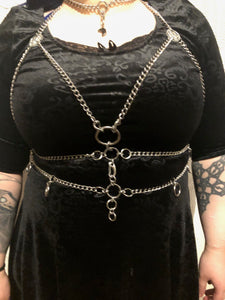 This design was to add extra options for wearing this. A Belt, a Harness or both together as a double layered Harness. We worked from the Alignment harness as our...